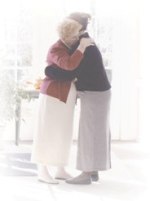 What is Hospice?
Hospice care is usually provided in the home by nurses and others who visit periodically to help the patient and caregivers.  A hospice agency is like a home health agency for the terminally ill, but it is much more.  The hospice staff is an interdisciplinary team that includes nurses, nursing aides, social workers, chaplains, volunteers, therapists, pharmacists, hospice physicians, and the patient's personal physician.  The hospice team is available "on call" twenty-four hours a day, seven days a week. 
What does Hospice do?
The hospice team initially meets with the patient, family, and other caregivers, and they develop a care plan to manage the patient's pain and other symptoms.  They provide necessary medicines, supplies, and equipment.  Also part of their role is coaching, support, and encouragement for the caregivers on the practical issues of how to take care of the patient.  Then the patient, family, and caregivers are better able to cope with the stress of the situation, and they help everyone deal with the emotional, psychological, and spiritual aspects of dying.  The hospice staff can also help at the time of death by assisting with funeral arrangements and the death certificate.  Finally, the hospice team provides bereavement care and counseling to surviving family and friends. 
       
It is the personal touch, however, that makes hospice care unique in the lives of patients and families.  Simply put, hospice nurses and other staff are caring and giving people who calmly, competently, and cheerfully comfort the ill and bereaved in this most difficult of situations.
Where is Hospice?
Hospice care is usually in the home, provided by nurses and aides who visit frequently.  Hospice care is also provided in hospice houses, which are facilities built specifically to care for hospice patients.  A few communities in South Carolina, such as Anderson, have had hospice houses since the 1990's.  Many more have been built in recent years, and there are currently plans in place to build houses in Charleston, Greenville, Greenwood, and Spartanburg.
Why a Hospice House?

Hospice care in the home does not work for everyone with a terminal illness.  Some patients have no home.  Some patients have no family member or person to care for them.  For some patients, the caregiver(s) have to go to work or have other obligations.  Many patients do not have extended family nearby with the time or resources to give as a caregiver.  For many older patients, the caregiver is often a frail, elderly spouse, who is unable to provide the demanding twenty-four hour care that the patient needs.  Some patients coming from the hospital have symptoms that cannot be controlled or medical conditions too difficult or complicated to manage in the home.  Other patients and caregivers do well with "in home" hospice for a period of time, but then the condition changes, and they need active intervention around the clock that cannot be accomplished in the home.  The term for this aspect of medical care that deals with symptom control and relief of suffering is "palliative care." 
       
For patients whose terminal care cannot be accomplished at home, the alternatives are the hospital or the nursing home.  Indeed, 57% of all deaths occur in hospitals and 17% occur in nursing homes.  While hospitals and nursing homes may be good places to recover and get well, they may not be the right places for palliative, end-of-life care and death.  There is frequently a tension between the "curing" model of the hospital and the "caring" model of the hospice.  In many ways, hospitals and nursing homes are not well designed or arranged for patients, their families, and their friends needing hospice care. 
For these reasons, dedicated residential hospice facilities have evolved.  They are sometimes called hospice houses.  They are medical facilities of ten to thirty beds with an atmosphere more like a home than a hospital.  They complement "in home" hospice care and increase the options available to persons receiving hospice care.
How about Greenville County?
Greenville County has excellent "in home" hospice resources and excellent but limited hospital and nursing home resources.  The closest hospice house to Greenville is the Callie Rainey Hospice House in Anderson, which is an hour away and generally filled to capacity with a waiting list.  There is a need for a thirty bed hospice house to meet the residential hospice care needs of Greenville. 
What Happens Now?
In recognition of the need for a residential hospice house in Greenville County, Hospice House of Greenville was formed in 2003 to
raise the funds
to build a hospice house.  The Greenville Hospital System and the Bon Secours St. Francis Health System came together to create the largest nonprofit hospice in Greenville County,
Open Arms Hospice
 which serves as the hospice of record for the facility.  Greenville Technical College also has also generously donated a beautiful, riverfront, five acre site on the
Brashier (Simpsonville) campus
.
Why Do We Need a Capital Campaign?
Although the need is great for residential hospice care, the financial resources to build and operate a hospice house are limited. Reimbursement from Medicare and Medicaid are limited and the amount of indigent care is substantial.  Most hospice houses built to date across the U.S., and in the Carolinas and Georgia, have depended on philanthropy and ongoing community support.  With the hospice house provided and ongoing support from Hospice House of Greenville, the newly formed hospice will be able to thrive and provide both "in home" and residential hospice services.
What About Other Hospices Operating in Greenville?
Patients under the care of other state-licensed hospices will be able to use the hospice house as the need arises and space allows.  Hospice House of Greenville is committed to work cooperatively with the other providers of hospice care in Greenville County.
What About those Who Cannot Afford Hospice Care?
Hospice care is available to anyone who needs it, without regard to ability to pay.  Hospices work with Medicare, Medicaid, insurance companies, individual families, and charities to find a way to make hospice care possible for every patient who is referred.  This is true across Greenville County, across South Carolina, and across the United States.  It is true for "in home" hospice care as well as residential hospice care.  It is true for cancer and non-cancer diagnoses, and it is true for young and old.
Hospice House of Greenville, along with the hospitals and other hospices, is committed to maintain the availability of hospice care for the poor.  Indeed, concern for the poor has been the inspiration for hospice care over the centuries and has inspired Hospice House of Greenville to form and build this hospice house.